Offer an affordable no fix no fee and no call out pc repairs and service in Liverpool and surrounding areas.
Highlights, Specialties & Features
PC repairs and support - No fix No Fee
Kodi
Virus Removal
Console Repairs
No call out fee
Laptop Screens
Slow PC or Laptops
Professional Associations & Certifications
Serviced Areas
Liverpool, Runncorn, Southport
Payment Options
Contact Details
Products & Services
Mac & PC Repair
Whether you are a business or an individual looking to fix your computer, you can trust us to take care of all your needs. We understand that computers make our lives and business much easier and when they are not working the way they are supposed to, it can become a bit of hassle. Our aim is to offer outstanding services straight to your home or to your office to conduct repair works or troubleshoot your computer. Out expert staff will pay attention to your needs and offer you the best consultation and advice on managing your computer well. We do this even if we find that your computer does not need any repair work. Our aim to minimize the problem from reoccurring and offers you low cost repair work that is essential for your computer needs.

From solving your networking problem, hardware problems or software problems for your desktop, PC or your MAC, to tuning up and installing software.
---
Broken Glass Repair
If you are in need to screen repaired for your broken glass, you need to be sure that you trust your phone with the best in the industries. This is the reason why we provide training to our engineers and the technical team to become the best repair specialist in the country.
---
Tablet Repair
By using the highest quality replacement parts, we make sure that your device will work like new. We replace only those parts that are required to be replaced and will not burden you with the cost of repair that your tablet do not need. We work on all leading tablets of different brands.
Photo Book
Social Activity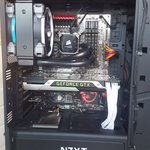 Recent gaming PC build #Runcorn #Cheshire #pc https://t.co/7EezkJ7TJP
#Runcorn Please follow me for affordable computer repairs and custom built computers
Nearest Businesses